Pouch Laminators
HeatSeal® H700pro
18" Pouch Laminator
This versatile, high-volume system is perfect for offices that need to laminate large items, such as banners, posters and mounted signs up to 18" wide. It has 9 speeds and 6 rollers, so you're sure to get the smoothest, glossiest results.

Added Features:
Jam release switch
Runs pouch thickness between 1-1/2 mil to 10 mil
HeatSeal® H600pro
13" Pouch Laminator
If you're looking for a professional system that can handle large and standard items up to 13" wide, the H600pro is for you. It's ideal for all of your presentations, signs, menus and certificates. And, with 6 speeds and 6 rollers, you'll get bubble-free results every time.

Added Features:
Jam release switch
Runs pouch thickness between 1-1/2 mil to 10 mil
Quick warmup
HeatSeal® H450
13" Pouch Laminator
The Heatseal H450 desktop pouch laminator achieves excellent results with standard or premium pouches. Laminate colour or black and white materials using card and document-sized pouches from 3 mil to 10 mil in thickness.

Added Features:
Runs pouch thickness between 1-1/2 mil to 10 mil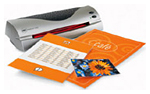 H300-Perfect for oversized items:
12.5" Throat
This system works well for small offices that occasionally need to laminate larger items, such as menus, signs, legal documents or records.

Added features:
Speedy warm-up with ReadyGlo® indicator.
Hot and cold settings.
Jam release lever.
Photo quality.
Uses 3 and 5 mil pouches.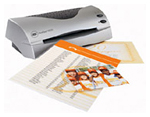 H200 Ultra-easy and compact:
9.5" Throat
If you have low-volume laminating needs, the H200 is the right system for you. It easily handles standard items, such as presentation visuals, reports and photos up to 9.5" wide.

Added features:
Speedy warm-up with ReadyGlo® indicator.
Hot and cold settings.
Jam release lever.
Photo quality.
Uses 3 and 5 mil pouches.
H100 Space-saving and affordable:
4" Throat
This handy desktop system is just the thing for smaller items, such as IDs, photos and business cards. You can store the H100 in a drawer or keep it at your desk.

Added features:
Speedy warm-up with ReadyGlo® indicator.
Hot and cold settings.
Photo quality.
Uses 5 mil pouches.
Limited one-year warranty.
Laminate Supplies
Small Pouches

Credit Card size
2-1/8" x 3-3/8" 5mil, 7mil, 10mil

Drivers License
2-3/8" x 3-5/8" 5mil, 7mil, 10mil

Business card size
2-1/4" x 3-3/4" 5mil, 7mil, 10 mil

Small index card
3-1/2" x 5-1/2" 5mil, 7mil, 10 mil

Luggage Tag with or without slot
2-1/2" x 4-1/4" 5mil, 7mil, 10 mil

Large Pouches

Photo
6" x 9" 3mil, 5 mil

Letter Size
9x11-1/2" 3mil, 5mil, 7mil, 10mil

Legal Size
9" x 14-1/2" 3mil, 5mil, 7mil, 10mil

Menu
11-1/4" x 17-1/4" 3mil, 5mil, 7mil, 10 mil

Menu
12" x 18" 3mil, 5mil, 7mil, 10mil

All 3mil, 5mil, 7mil Pouches packed 100/box
All "Large&quot 10 mil Pouches packed 50/box
Roll Laminate Film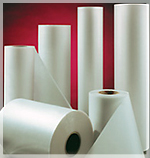 1.5 Mil x 500' Clear
Available in 9", 12", 18", 25", 27"
3 mil x 250' Clear
Available in 9", 12", 18", 25", 27"
5 mil x 200' Clear
Available in 9", 12", 18", 25"
10 mil x 100' Clear
Available in 9", 12", 18", 25"
Call for availability on other sizes.
Minimum order required.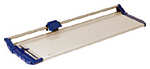 A645 pro
Handles plastic and lamination
This durable, heavy-duty trimmer is ideal for offices or schools that need to cut tough materials. The A645pro trimmer slices straight through plastic and laminated items. And, it can easily handle all of your large-scale projects, such as banners, posters and presentations.

Added features:
Stainless-steel rotary blade cuts in both directions.
Transparent cutting guide.
Alignment grid and ruler for accuracy.
Five sheet cutting capacity*.
A500pro series
High-performance
If you're looking for a professional trimmer that can handle up to 30 sheets at a time, the A500pro series trimmers are for you. They're perfect for all of your high-volume projects

Added features:
Stainless-steel rotary blade cuts in both directions.
Manual clamp locks papers into place.
Transparent cutting guide.
Alignment grid and ruler for accuracy.
Sturdy metal base.
30 sheet cutting capacity*.
Limited one-year warranty.

Model
Cutting length
Product number
A530pro - A520pro - A510pro
24" 18" 15"
Slot Punch -
Various sizes available
Diamond –1 Corner Rounding Equipment
Standard Features on the Diamond-1 Corner Rounding Equipment Machine
Carefully crafted with only the highest quality components.
Work with all standard materials, like: PVC, polyester, leather, paper, polypropeline, etc.
Have high productivity: Specially designed to cut through multiple sheets at a time with the least effort and with minimum die depreciation.
Are practical: With an interchangeable die system for your various jobs.
Are ideal for rounding covers, pouches, pictures, all types of IDs, invitations, postcards, etc.
Maximum Capacity: 0.4"
1/4" Die Included
Available Dies 1/8", 1/4", 3/8", 45° (straight), half-moon
Waste Backset Included
Includes: "L" Guide, Plastic Pads and Radius Alignment Guide
Roll Laminators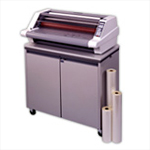 GBC® HeatSeal® ULTIMA® 65 120 Volt
Thermal school laminator up to 27" wide.

Added Features:
Keypad presets eliminate guesswork and reduce set up time
Slide away idler bar makes film loading quick and easy
Reverse switch for clearing misfeeds
Digital speed control
Heated roller design provides a smooth scratch-free finish
Auto shut-off eliminates any chance of overheating from non-use
Professor 27"
Specifications:

Laminating Width up to 27"
Speed 0-15 FPM
Laminating roll diameter 7/8"
Maximum film gauge 10mil
Maximum laminating thickness 3/16"
Variable speed
LCD Temperature display
Forced air cooling
Ease of threading and cleaning
Supply roll tension controls
Reverse Switch
Made to last!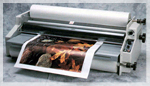 Premier 4
25 Inch Commercial Laminator
The Premier 4 represents an evolution in medium duty laminators, because it was designed exclusively for commercial applications, and because it sets a new benchmark for quality.

Whether it's judged by appearance, by ease-of-use, by durability and reliability, by the finished lamination, or by overall capabilities, the Premier 4 is unparalleled quality.

Commercial users must have that quality to help them satisfy their customers. The Premier 4 was made specifically for copy and print shops, business service centers, laminating services, school supply stores, sign/banner shops, in-house graphics departments, and other commercial users with similar needs.

Key Benefits
Variable Speed - operates at any speed up to 10 feet per minute. Thicker films are generally applied better at mid-range to lower speeds, while 1.5 mil film should be applied at mid-range to higher speeds.
Digital LCD Temperature Display - makes it easy to set and maintain the correct temperature. The indicator light inside the heat switch comes on as the machine warms up; at set temperature the indicator light turns off.
Simple Controls- Conveniently placed switches provide a compact, reliable control pad, icons and international symbols are used for controls and safety warnings.
Slitters - Experts know the value of slitters for laminating a quantity of same-size sheets. The slitters remove the side scrap from both of sides of each sheet as it goes through the laminator... this greatly reduces the amount of time required for trimming.
Glitch-proof Threading - Threading can be the most difficult aspect of using a laminator, so the Premier 4 has built in threading aids. The top idler is guarded from the top heat shoe for safety and easy threading. The bottom idler is attached to the feed tray. Once the upper and lower webs of film have been run through the machine, bottom idler threading is automatic when the operator puts the feed tray on the machine.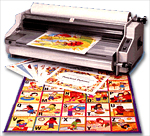 The Educator
25 Inch School Laminator
We asked teachers and media specialists what they wanted to see in a laminator and that's what they told us. So that's what we designed into the Educator. We started with the Graphic III and Premier III machines that so many schools have learned to know and trust for their laminating quality and trouble-free operation. Then we simplified the controls and created an improved film path to eliminate many of the operator errors common to thermal laminators.

Posters, dry erase charts, flash cards, bulletin board graphics, games, visuals and teaching aids of all kinds represent a tremendous investment, whether they were purchased, or made by teachers. Protecting and enhancing these educational materials with lamination allows them to last for years instead of being replaced every few weeks or months.

Key Benefits
Preset Lamination Pressure and Speed - makes the machine easier to use and eliminates many possible sources of problems.
Enclosed laminating and Pull Rollers - help you avoid time-consuming jams and wrap arounds.
Forced Air Cooling - allows laminating with 3 and 5-mil films, as well as the 1.5 mil film often used by schools. Without a film cooling system, thicker films will warp and ripple because they are still hot and partly melted when they come out the back of the laminator.
Fixed-Position Lamination Rollers - provide a stable platform for uniform roll pressure to provide the highest quality lamination available in a school laminator.
Attached Safety Shield - the saftey shield is fixed to the machine and is placed so that the operator will naturally put it in the guard position before laminating. The shield is made of clear polycarbonate so users can see their work and will not be tempted to try to laminate without the shield in its safe position.
Reverse Switch - can be essential at times to help avoid problems or clear misfeeds.